Buy Tyranny - Gold Edition as a Steam Key.
Tyranny – Gold Edition is the ultimate Tyranny experience that includes the base game, every Tyranny Expansion and all additional DLC. Experience a story-driven RPG where your choices mean all the difference in a world conquered by evil.
FREE period: 10th - 17th of December 2020our REVIEW:description:Ex. About Tyranny Gold Edition Play an RPG with meaningful, world-altering choices, unique and memorable companions, and a new perspective on morality. From Obsidian Entertainment, the team behind Pillars of Eternity, Fallout: New Vegas, and South Park: The Stick of Truth, Tyranny is a classic-styled RPG with a new and original story, shaped. Tyranny - Gold Edition Description Includes: Base Game Bastard's Wound Experience a new chapter of Tyranny, the critically-acclaimed role-playing game (RPG), in Bastard's Wound, a new expansion that builds upon the game's compelling story.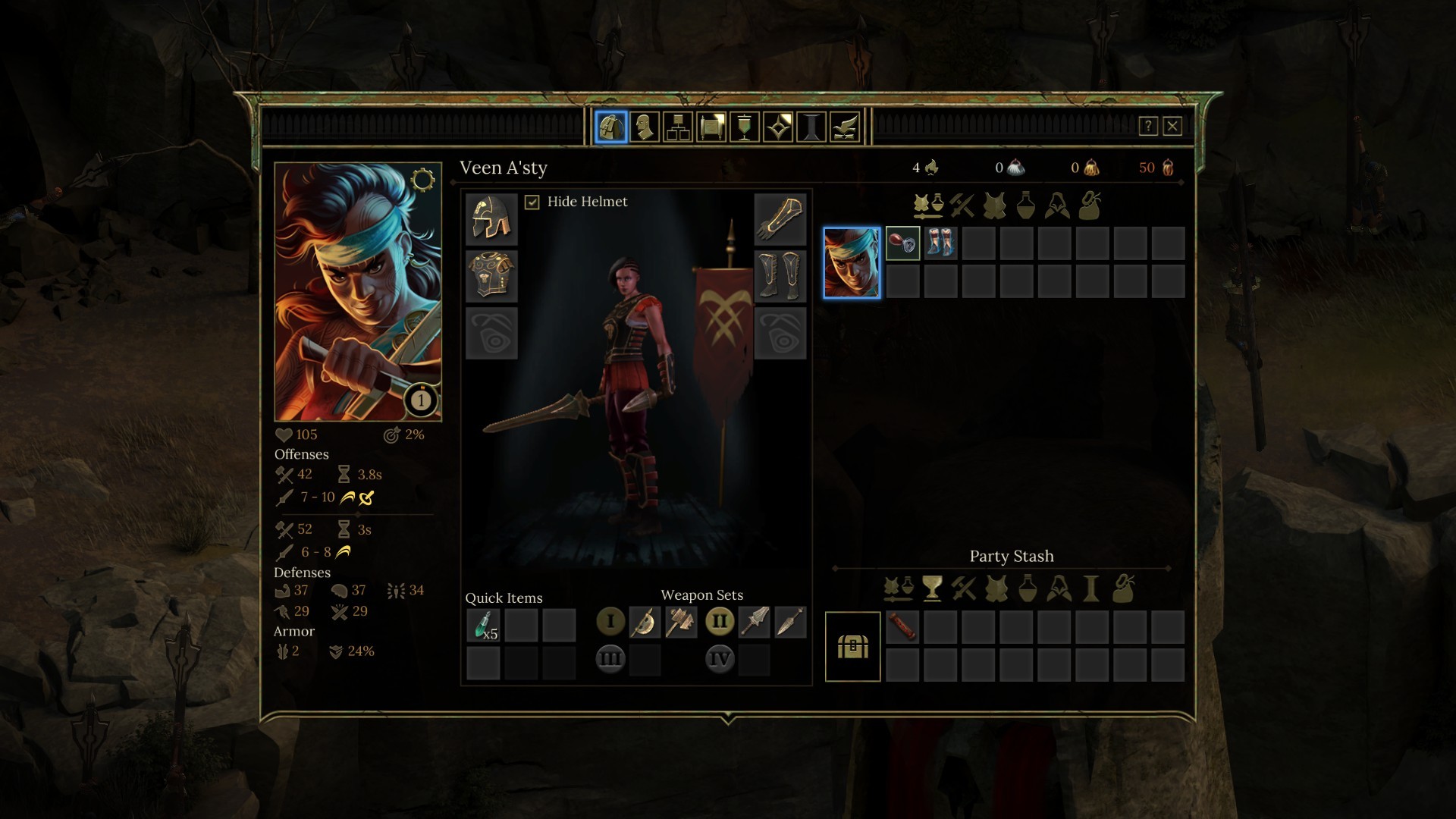 Features:
Experience a new chapter of Tyranny, the critically-acclaimed role-playing game (RPG), in Bastard's Wound, a new expansion that builds upon the game's compelling story. Tyranny, an original RPG from Obsidian Entertainment, invites the player to make their mark on a world conquered by evil, and the Bastard's Wound expansion opens up a new area of the Tiers where refugees from the war-torn world have established a haven in secret.

Tales from the Tiers
Tales from The Tiers expands your journey through the war-torn world of award-winning role-playing game Tyranny, with new travel map events, encounters, and side stories. Outwit hostile ambushes, patronize or plunder traveling merchants, and use your skills to navigate the perils of a land plagued by magical Edicts in a series of episodes that offer new insights, new items, and new challenges on your journey. Whether you're new to Tyranny or playing an existing savegame, Tales from The Tiers lets you take an even deeper dive into the saga of Tyranny.

Ringtones
Three notification tones and one ringtone

Digital Original Soundtrack
The soundtrack includes 18 tracks containing a total of 57 min from the game.

Official Soundtrack - Deluxe EditionThe digital Tyranny soundtrack includes over two hours of music across 43 tracks, including the scores from Bastard's Wound and experimental music from the game's development.

Digital High-Resolution Game Map

Exclusive Coat of Arms
Adds 4 unique coat of arms to the Fatebinder's selection of personalized war banners – show your allegiance with either The Disfavored, Scarlet Chorus, Tunon the Adjudicator, or Kyros the Overlord.

Short Story Collection
A rich digital collection of ten short stories from the world of Tyranny, giving readers a deeper look at the brutal world and powerful characters that live under Kyros' rule. Written by the creative team behind Tyranny, these stories introduce several of the game's companions and key characters. This collection includes three exclusive tales never seen before, alongside seven originally published on the official Tyranny website.

Digital High-Resolution Wallpapers
Add your desktop to Kyros' domain with a selection of high-quality artwork from Tyranny, sized for PC desktops in high resolution. The collection includes ten different pieces from the Tyranny art team, including one signed by the developers.

Digital Collector's Guide Book
Discover the lore and secrets of Tyranny in a comprehensive world guide from author John Helfers. Explore artwork from the game alongside the stories of the people and places of the Tiers, and discover the world that Kyros has brought to heel. Includes a foreword from Obsidian Entertainment.

Digital Art Book
Immerse yourself in the war-torn world of Tyranny in an extensive collection of original artwork.

Overlord Edition Forum Icon (Paradox Plaza)

Exclusive Overlord Editions Forum Avatars (Paradox Plaza)

Forum Avatars (Paradox Plaza)
Available Regions for Activation
Across the globe, except South America, Europe and United Kingdom.
Afghanistan
Algeria
American Samoa
Angola
Anguilla
Antarctica
Aruba
Australia
Bahrain
Bangladesh
Benin
Bhutan
Botswana
Bouvet Island
British Indian Ocean Territory
British Virgin Islands
Brunei
Burkina Faso
Burundi
Cambodia
Cameroon
Canada
Cape Verde
Caribbean Netherlands
Cayman Islands
Central African Republic
Chad
China
Christmas Island
Cocos (Keeling) Islands
Comoros
Congo - Brazzaville
Congo - Kinshasa
Cook Islands
Côte d'Ivoire
Curaçao
Djibouti
Egypt
Equatorial Guinea
Eritrea
Ethiopia
Faroe Islands
Fiji
French Polynesia
French Southern Territories
Gabon
Gambia
Ghana
Gibraltar
Guadeloupe
Guam
Guernsey
Guinea
Guinea-Bissau
Heard & McDonald Islands
Hong Kong SAR China
India
Indonesia
Iran
Iraq
Isle of Man
Israel
Japan
Jersey
Jordan
Kazakhstan
Kenya
Kiribati
Kuwait
Kyrgyzstan
Laos
Lebanon
Lesotho
Liberia
Libya
Macau SAR China
Madagascar
Malawi
Malaysia
Maldives
Mali
Marshall Islands
Martinique
Mauritania
Mauritius
Mayotte
Micronesia
Mongolia
Montserrat
Morocco
Mozambique
Myanmar (Burma)
Namibia
Nauru
Nepal
New Caledonia
New Zealand
Niger
Nigeria
Niue
Norfolk Island
North Korea
Northern Mariana Islands
Oman
Pakistan
Palau
Palestinian Territories
Papua New Guinea
Philippines
Pitcairn Islands
Qatar
Réunion
Russia
Rwanda
Saint Martin
Samoa
São Tomé & Príncipe
Saudi Arabia
Senegal
Seychelles
Sierra Leone
Singapore
Solomon Islands
Somalia
South Africa
South Korea
South Sudan
Sri Lanka
St. Barthélemy
St. Helena
St. Martin
St. Pierre & Miquelon
Sudan
Svalbard & Jan Mayen
Swaziland
Syria
Taiwan
Tajikistan
Tanzania
Thailand
Timor-Leste
Togo
Tokelau
Tonga
Tunisia
Turkmenistan
Turks & Caicos Islands
Tuvalu
U.S. Outlying Islands
U.S. Virgin Islands
Uganda
United Arab Emirates
United States
Uzbekistan
Vanuatu
Vietnam
Wallis & Futuna
Western Sahara
Yemen
Zambia
Zimbabwe
About the game
In Tyranny, the grand war between good and evil is over – and the forces of evil, led by Kyros the Overlord, have won. The Overlord's merciless armies dominate the face of the world, and its denizens must find their new roles within the war-torn realm... even as discord begins to rumble among the ranks of Kyros' most powerful Archons.
Players will experience the new world order under Overlord in a reactive role-playing game (RPG), interacting with the populace as a powerful Fatebinder in the Overlord's forces -- roaming the lands to inspire loyalty or fear as they bring control to the last holdouts of the Tiers.
Highlights
Branching, unique stories in an original setting: The battle between good and evil has already taken place, and evil stands victorious
Choices matter – make world-altering decisions with far-reaching consequence: As a Fatebinder in the Overlord's army you wield a vast amount of power in the occupied lands of the Tiers. Will you use that to inspire stability and loyalty, will you be feared, or will you seek your own power?
Challenging, classic RPG combat: Tactical real-time-with-pause combat with new party-driven mechanics and modern presentation
A rich original setting: Not just another "hero's journey" -- Tyranny turns the archetypal RPG story on its head and allows players to explore a new take on good and evil
Bonus content
Gold Edition Includes:
Base Game
Ringtones (three notification tones and one ringtone)
Digital Original Soundtrack The Tyranny soundtrack delivers 57 min of original music, including a total of 18 tracks.
Digital High-Resolution Game Map
Exclusive Coat of Arms Adds 4 unique coat of arms to the Fatebinder's selection of personalized war banners – show your allegiance with either The Disfavored, Scarlet Chorus, Tunon the Adjudicator, or Kyros the Overlord.
Short Story Collection A rich digital collection of ten short stories from the world of Tyranny, giving readers a deeper look at the brutal world and powerful characters that live under Kyros' rule. Written by the creative team behind Tyranny, these stories introduce several of the game's companions and key characters. This collection includes 3 exclusive tales never seen before, alongside 7 originally published on the official Tyranny website.
Digital High-Resolution Wallpapers Add your desktop to Kyros' domain with a selection of high-quality artwork from Tyranny, sized for PC desktops in high resolution. The collection includes ten different pieces from the Tyranny art team, including one signed by the developers.
Archon Edition Forum Icon (Paradox Plaza)
System Requirements
Minimum
OS:

14.04 LTS

Storage:

15 GB

Processor:

Intel Core 2 Quad Q9505 @ 2.80 GHz / AMD Athlon II X4 840 @ 3.10 GHz

Memory:

6 GB

Graphics:

ATI Radeon HD 5770 / NVIDIA GeForce GTS450 (1GB VRAM)
Recommended
OS:

14.04 LTS

Storage:

15 GB

Processor:

Intel Core i3-2100 @ 3.10 GHz / AMD Phenom II X4 955 @ 3.10 GHz

Memory:

8 GB

Graphics:

Radeon HD 6850 / NVIDIA GeForce GTX 560 (GB VRAM)
Minimum
Tyranny Gold Edition Steam
OS:

OSX 10.10

Storage:

15 GB

Processor:

Intel Core i5 @ 2.9 GHz

Memory:

6 GB

Graphics:

Radeon HD 6950m (1GB VRAM)
Recommended
OS:

OSX 10.11

Storage:

15 GB

Processor:

Intel Core i5 @ 2.9 GHz

Memory:

8 GB

Graphics:

AMD R9 390m / NVIDIA GeForce GTX 750m
Minimum
OS:

Windows 7 64-bit

Storage:

15 GB

Processor:

Intel Core 2 Quad Q9505 @ 2.80 GHz / AMD Athlon II X4 840 @ 3.10 GHz

Memory:

6 GB

Graphics:

ATI Radeon HD 5770 / NVIDIA GeForce GTS450 (1GB VRAM)
Recommended
OS:

Windows 7 64-bit

Storage:

15 GB

Processor:

Intel Core i3-2100 @ 3.10 GHz / AMD Phenom II X4 955 @ 3.10 GHz

Memory:

8 GB

Graphics:

Radeon HD 6850 / NVIDIA GeForce GTX 560 (1GB VRAM)
Requires agreement to a 3rd-party EULA Tyranny EULA© 2016 Paradox Interactive®. Trademarks belong to their respective owners. All rights reserved
Release date:

2016-11-10

Developer: Obsidian Entertainment
Publisher: Paradox Interactive
Tyranny - Gold Edition Free Download
Game Mode
Tyranny Gold Edition Console Commands
Rated
Tyranny Game